Back
3 Back-Saving Lift Technologies Designed for Home Caregivers
08/04/2022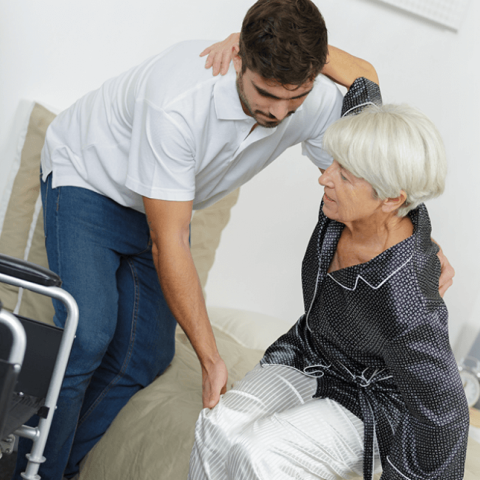 For the nearly 20 million people that provide care for loved ones at home1, musculoskeletal injuries are a common occurrence. While healthcare professionals are trained in safe patient handling techniques, non-professional family caregivers typically are not. It's not surprising, then, that these family caregivers often develop significant musculoskeletal issues themselves2, especially as they struggle to lift and move the people who depend on them to perform basic daily tasks. 
To help family caregivers minimize the strain of daily lifting and enable them to continue to provide at-home care, families can employ a few pieces of assistive technology in areas of the home where lifting if most often performed—such as the bathroom and bedroom. From adjustable beds to powered toilet lifts, here are some tools designed to help more easily and safely lift loved ones.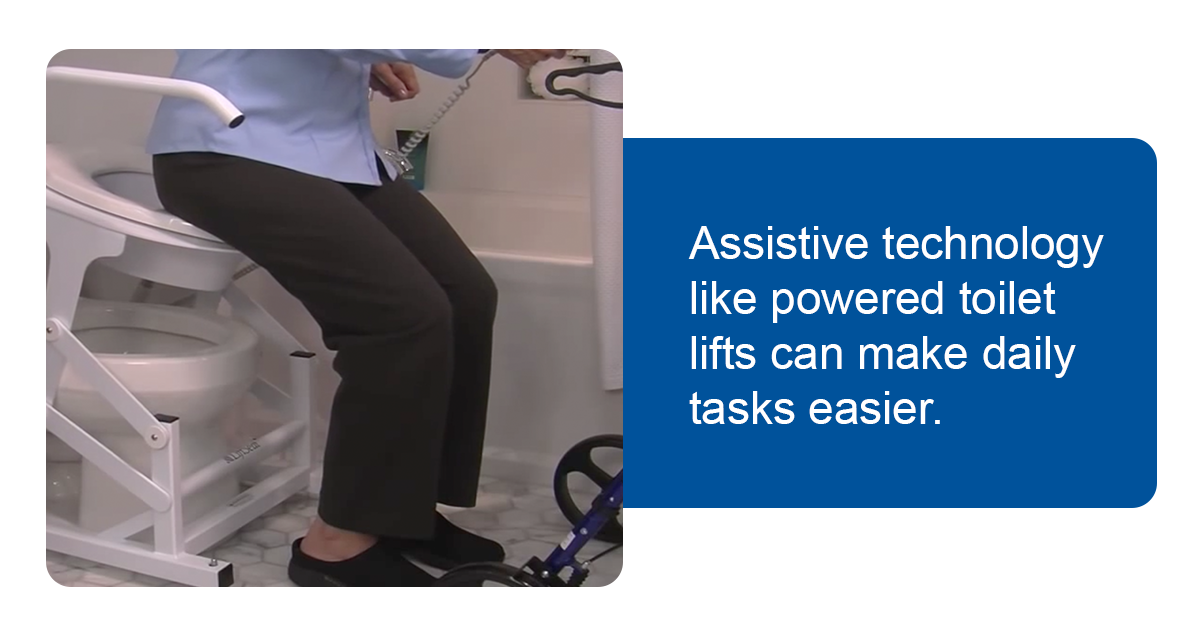 Adjustable Beds
For those who struggle to get in and out of bed, or to get comfortable while sleeping, adjustable beds can be a great option. There are a wide range of options for adjustable beds, so you'll want to think about any specific needs before investing in one. You'll also want to plan ahead for future needs – you may want to purchase a bed with more advanced features than currently needed because they might be needed/useful in the future. Learn more about available options for adjustable bedding, and some alternative solutions, in this helpful guide.
 
Powered Toilet Lifts
Using the bathroom can be one of the most challenging and frustrating actions for people with limited mobility - and their caregivers! It can also be one of the most dangerous, with many falls happening around the toilet.3 There are several steps you can take to make the bathroom safer and more easily accessible. One of the quickest things to improve bathroom mobility that you can do is install powered toilet lift. LiftSeat's powered toilet lift slides right over the existing toilet to gently lift and lower the user at the push of a button. LiftSeat units also convert into a bedside commode as needed for increased versatility. Additional accessories such as a retractable handle bar make transfers easier.
 
Bath Lifts
Bathing is another common challenge for at-home caregivers. For families who cannot afford to modify the bathroom and install a walk-in tub, using a tool like a bath lift can be a real money (and back) saver. There are a number of different bath lifts currently available, and while many are similar, they do have some differences in features (such as lift height, battery recharge time, etc).
 



Caring for the Caregivers
To continue caring for others, caregivers first must take care of themselves – which includes taking measures to prevent physical injury causes by repetitive and strenuous tasks. Learning to lean more on assistive technology can help caregivers and their loved ones by alleviating the burden of daily lifting and facilitating easier and safer movement. 
References:
Reinhard, Susan. "Latest How-To Videos for Family Caregivers Provide Guidance on Complex Medical Tasks." AARP, 4 Nov. 2019, blog.aarp.org/thinking-policy/latest-family-caregiver-how-to-videos
Darragh, Amy R., et al. "Musculoskeletal Discomfort, Physical Demand, and Caregiving Activities in Informal Caregivers." Journal of Applied Gerontology, vol. 34, no. 6, Sept. 2015, pp. 734–760, doi:10.1177/0733464813496464
Bakalar, Nicholas. "Watch Your Step While Washing Up." The New York Times, The New York Times, 15 Aug. 2011, www.nytimes.com/2011/08/16/health/research/16stats.html