Back
How to Raise a Toilet…The Right Way
12/07/2022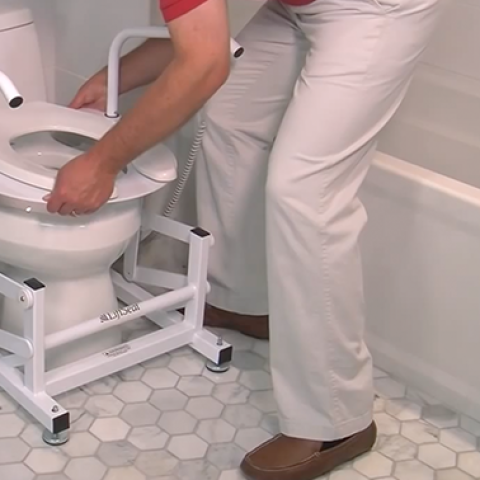 There comes a day for everyone when the toilet feels a little lower than it used to … too low, in fact. Certain neuromuscular conditions such as ALS and muscular dystrophy cause a progressive loss of strength that makes using the toilet more difficult. Our muscles also become weaker naturally as we age – regardless of the presence of any underlying disease. Suddenly, the toilet that we've used every day for years can feel like it's forever away as our knees and legs strain to sit down. Then when it's time to stand back up, we reach for the towel rack next to the toilet and hope it doesn't pull out of the wall (spoiler alert – it will).
To prevent dangerous falls, start implementing toilet-transition solutions at the first sign of weakness (or even before). For some, this may be as simple as raising the toilet height - it's easier to stand up from a seat that's higher. Others may benefit from a comprehensive solution that provides complete support during the sit-to-stand motion. We'll cover both types of solutions below and help you decide which one is right for you.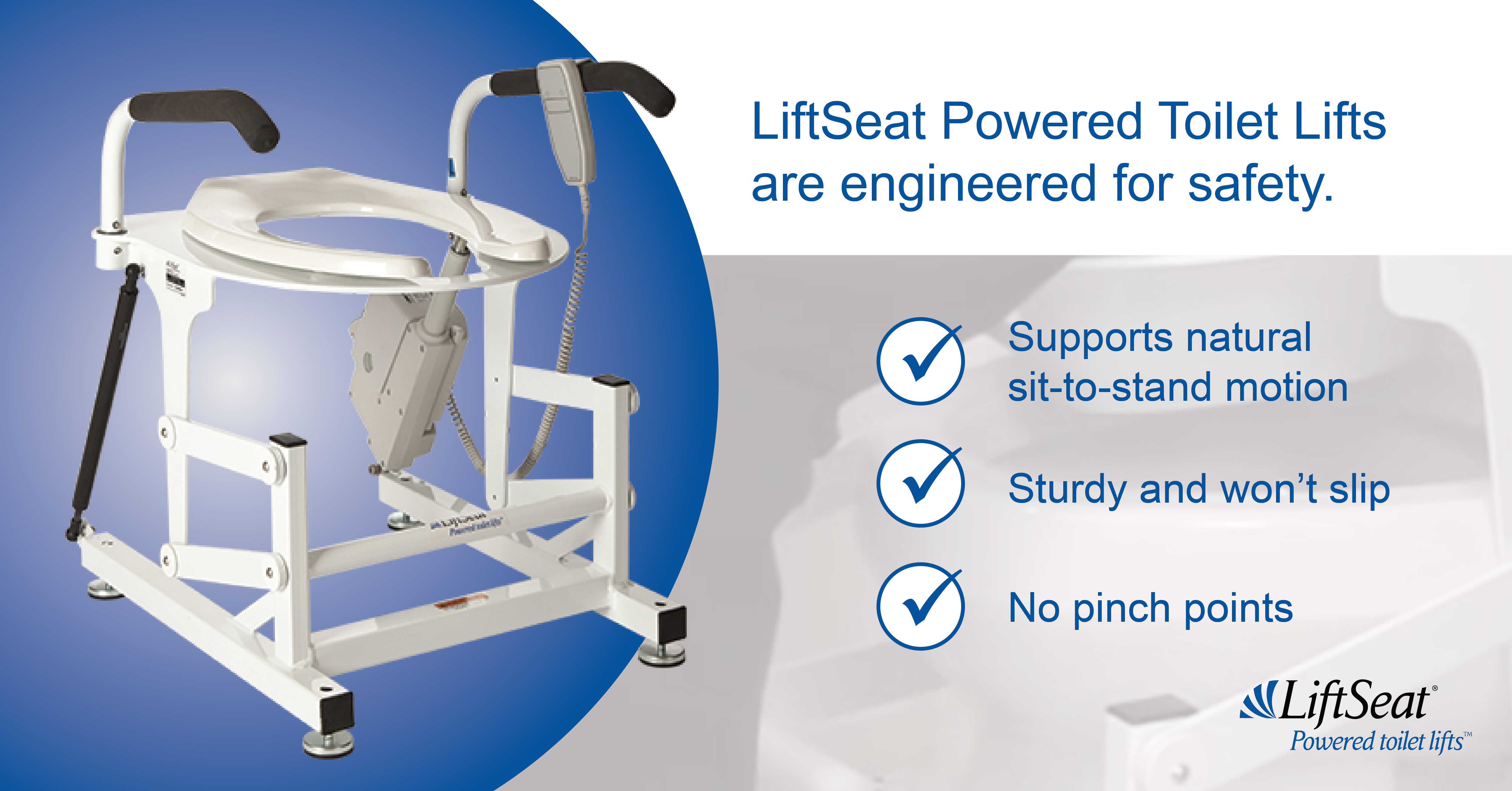 Under-Toilet Riser
There are only 2 true ways to raise a toilet. The first involves placing a riser beneath the existing toilet. These types of risers are inexpensive and can be purchased online or at most hardware stores. To install the under-toilet riser, you must shut off the water and remove the existing toilet, which is not an easy task. If not installed correctly, this type of toilet riser can also lead to leaking around the base of the toilet. 
Pros: 
- Inexpensive
Cons:
- Challenging to install
- Can leak 
- Cannot be modified/customized
 
Toilet Riser Seat
The second way to raise a toilet involves replacing the existing toilet seat with an elevated seat. These aids are much easier to install than the under-toilet style and are also inexpensive. The ease of installation and price point make this one of the most popular options. 
However, this style of seat can shift or break, leading to injury. One manufacturer of these elevated seats had to issue an apology and a warning letter after 6 reports of injuries due to faulty brackets.1

Pros: 
- Inexpensive
- Easy to install
Cons:
- Cannot be modified/customized
- More prone to breakage
 
Raised Toilet Seat Frame
Another option is a free-standing frame with a built-in toilet seat This option does not raise your toilet per se, as it stands freely above the existing toilet without attaching to it. It does lessen the distance to sit down/stand up and has the added benefit of handles. These stands are usually lightweight, which makes them easy to maneuver and put into place, but also makes them more prone to shifting during use. 
Pros: 
- Inexpensive
- Easy to install
- Handles for additional support
Cons:
- Cannot be modified/customized
- More prone to shifting
 
Power Toilet Lift 
The most advanced option currently available is a power toilet lift. Like the toilet seat frame, a toilet lift installs over the existing toilet structure (there is one model that attaches to the bowl, but most are freestanding). Unlike the other options listed above, a toilet lift does much more than make your toilet higher – it supports the complete sit-to-stand motion, so even people with minimal muscle strength can use the toilet unassisted. 
Of the current options on the market, LiftSeat is a popular choice for individuals who need maximum assistance. Why? LiftSeat units are made in the USA (from steel, not aluminum and plastic like other toilet aids, so they are sturdy and won't budge) following FDA regulations for medical devices, so you can be sure they meet the strictest safety standards. LiftSeat is also the only power toilet lift that can be fitted with a bidet for hands-free cleaning and true independence in the bathroom. 

Pros: 
-    Easy to install
-    Maximum support through entire sit-to-stand motion
-    Safe and sturdy
-    Can be modified/customized
Cons:
-    More expensive (but still a fraction of the cost of a single fall – physically, mentally, and monetarily) 
If you are interested in learning more about LiftSeat, or would like to speak with someone directly, call 1-877-665-4381. You can also visit the website for product details and pricing.
 
References:
1.    Associated Newspapers. (2008, October 23). Toilet trouble: Six people injured and one dead after falling off faulty raised toilet seats. Daily Mail Online. Retrieved July 25, 2022, from https://www.dailymail.co.uk/news/article-1080018/Toilet-trouble-Six-people-injured-dead-falling-faulty-raised-toilet-seats.html 
This content is not intended to be a substitute for professional medical advice, diagnosis, or treatment. Always seek the advice of your physician or other qualified health provider with any questions you may have regarding a medical condition.