Back
6 Reasons to Get a LiftSeat Powered Toilet Lift
08/04/2022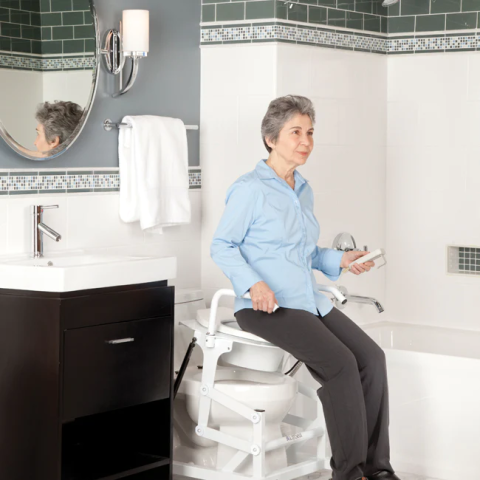 Thinking about getting a powered toilet lift but not sure which one to go with? There are several companies currently selling lifts, so doing your research to find the best lift for your needs prior to purchasing is important. Before you decide, take a few minutes to read about how LiftSeat is different from other lifts and why these differences matter. 
 
Safety

LiftSeat takes safety seriously and is a registered medical device manufacturer with the FDA. Companies that are registered as medical device manufacturers with the FDA are required to follow strict safety standards that non-registered companies are not. When purchasing a lift, make sure to verify that the company selling it is registered with the FDA so you can feel confident that your new purchase was made with safety in mind.

You should also look for proper certifications (such as CE and UL marks) on any motors, controls, or batteries, and should not purchase a product without these safety marks.

Quick Tip: Find out whether the lift uses a lithium ion battery. Lithium ion batteries are highly flammable and can cause fires. LiftSeat units DO NOT use these types of batteries, but there are other lifts that do.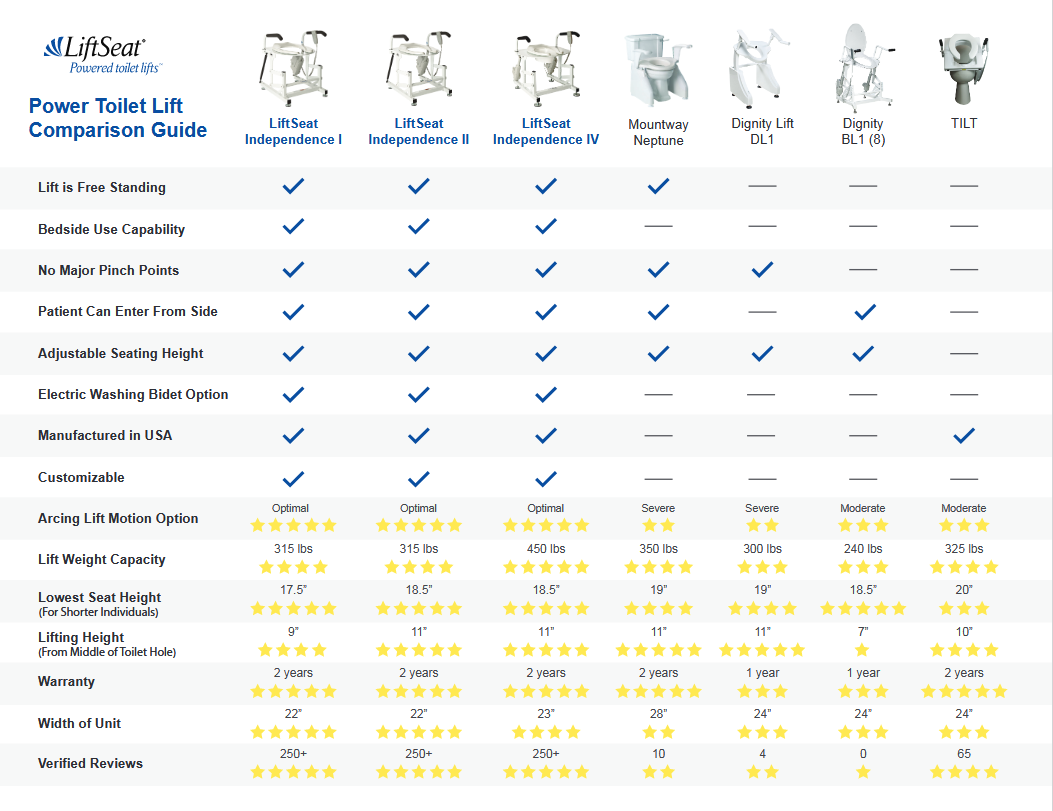 Made in the USA

LiftSeat products are made in the USA at an ISO-Certified medical manufacturing facility. This means that our products are manufactured according to stringent quality assurance guidelines. It also means that we are also able to provide fast customer support and product customization options that products manufactured outside of the US frequently cannot.  
Quick Tip: Consider going with a lift manufactured in the US to make sure you can get in touch with customer service quickly and get new parts should you ever have a problem. 
Versatility and Customization

LiftSeat is the most versatile lift on the market. With a dedicated team ready to talk to you and a wide range of accessories available, you can be sure that you are getting the right fit for your needs.

LiftSeat is the only lift that offers an optional bidet attachment to perform the sit, clean, and stand function that so many customers need. We also have retractable handlebars available for side transfers, a big button remote for individuals who have difficulty with small buttons, and a bedside-commode conversion option. Our multiple wheel and leveling foot options help us further accommodate all shapes, sizes and space requirements.  
Quick Tip: When purchasing a lift, consider both your current and future needs. Opting for a lift with greater versatility and customization will allow you to modify your lift as your needs change without having to invest in an entire new setup.  
Customer Service Experience and Responsiveness 
With over 15 years of experience in manufacturing and selling power toilet lifts, LiftSeat team members have the extensive knowledge needed to answer all of your questions. Help is only a click or phone call away and our team is highly responsive. Whether you are buying your first lift or need help with one you've owned for years, our team will always be available to support you. 

Quick Tip: Make sure you can easily get in touch with someone at the company. If you cannot get anyone to respond before you buy, chances are it will be even more difficult to get support after you've already purchased.  
Return Policy and 100% Guarantee
LiftSeat is the only power toilet lift that comes with a full-satisfaction guarantee and free-return policy. We understand that it can be difficult to know for sure whether a toilet lift will work for you in until you see it in your own home, which is why we offer full refunds within 15 days of receipt on products that have not been used. 

Quick Tip: Make sure you take the return policy into account when evaluating overall cost. Cheaper products typically have limited return policies that could end up costing you in both wasted time and money.
Customer Satisfaction

Hearing what real customers have to say is one of the best ways to know how good a product actually is. LiftSeat has over 250 verified reviews on our products with an average rating of 4.8/5.0. 

Quick Tip: Don't just take a company's word on the quality of their products. Make sure they have plenty of real reviews so you can see what customers like about a particular product, as well as what they don't like.

Whether you decide to go with LiftSeat or another power toilet lift, you should keep these 6 considerations in mind as you are evaluating all your options. Price is certainly an important factor for many people, but it is not the only important factor, and should be considered alongside things like safety and customer service for a more complete comparison. 

To learn more about LiftSeat, give us a call at 1-877-665-4381 or email us at info@liftseat.com.  We are always here to help!
 
This content is not intended to be a substitute for professional medical advice, diagnosis, or treatment. Always seek the advice of your physician or other qualified health provider with any questions you may have regarding a medical condition.