Back
Aging in Place – Simple Steps for Making the Bathroom Safer
08/04/2022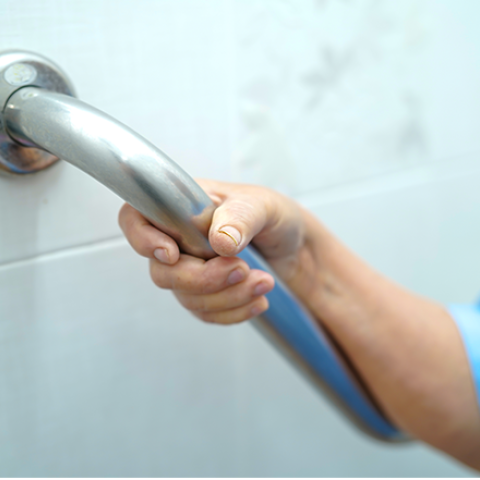 High costs of senior living residences put senior care facilities out of reach for many older people. Additionally, due to current health concerns related to group living situations, a large number of elderly Americans are opting to age in place—at home.
When choosing to remain in the home where they've lived comfortably for many years, people often overlook the modifications needed to make to their home safer and more comfortable during their senior years. Home modifications can prevent painful and potentially life-threatening accidents. One of the most dangerous areas to consider updating is the bathroom.
Of the all the injuries that happen in the bathroom at home, the overwhelming majority are sustained by those 65 and older.1 There are many factors that influence the likelihood of injury, but here are a few that can be easily addressed with simple modifications to minimize risk.


Seeing the Light
Adequate lighting is important and also very easy to improve, making it one of the first things you should check off your senior-friendly home modifications list. Adequate lighting makes performing common bathroom tasks both easier and safer. Consider replacing any incandescent lights with higher wattage LED lights – they will brighten up the space and they require infrequent bulb replacements (which can be another slip-and-fall risk).


Feeling Supported
Using the toilet and shower become more difficult with age. Having the physical support needed to safely perform these 2 everyday tasks is crucial for maintaining at-home independence. In situations where there is a caregiver, they can help to provide assistance with these tasks, but additional measures should be taken to ensure safety. Most seniors prefer to perform private tasks alone and giving them the tools they need to do so will make them feel empowered.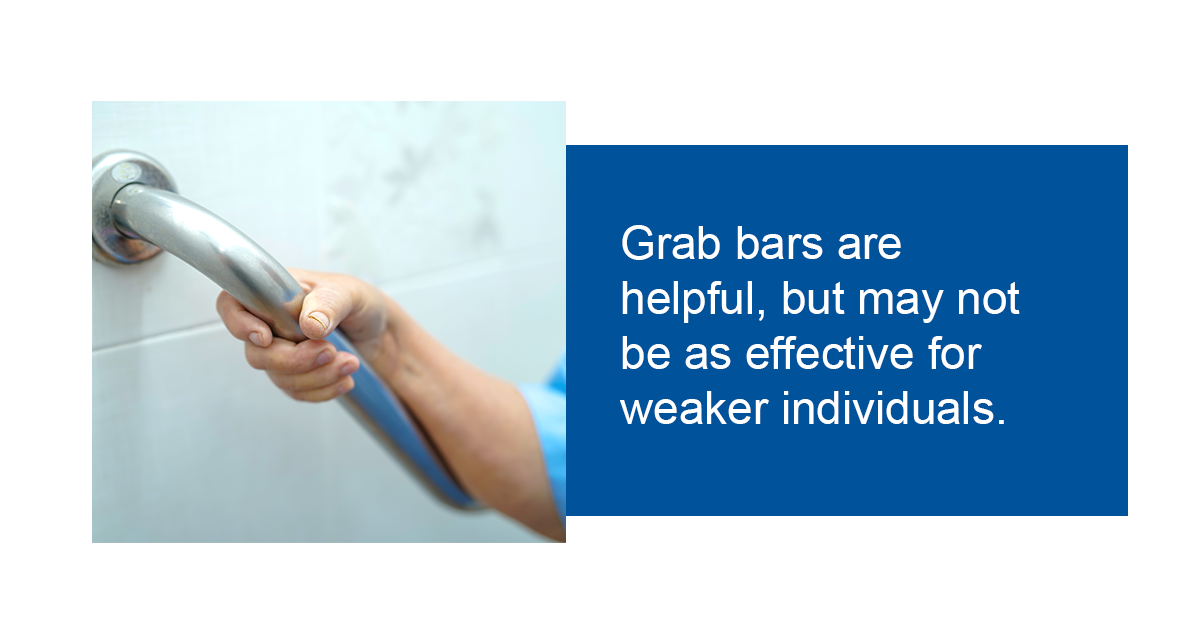 Install a grab bar next to or in the shower. Depending on their ability to stand for moderate periods of time, an in-shower seat or sliding transfer bench may also be an important addition (as long as it can be secured without risk of sliding).
For assistance using the toilet, a grab bar nearby can also be helpful for people who still have sufficient upper-body strength. However, a better and more versatile solution is a power toilet lift. The LiftSeat Independence II Toilet Lift is an simple addition and can be used over your existing toilet or easily modified for bedside use. It is also very easy to use and is very sturdy (unlike many cheap lifts and risers that can be unstable and shift, presenting additional slip and fall hazards).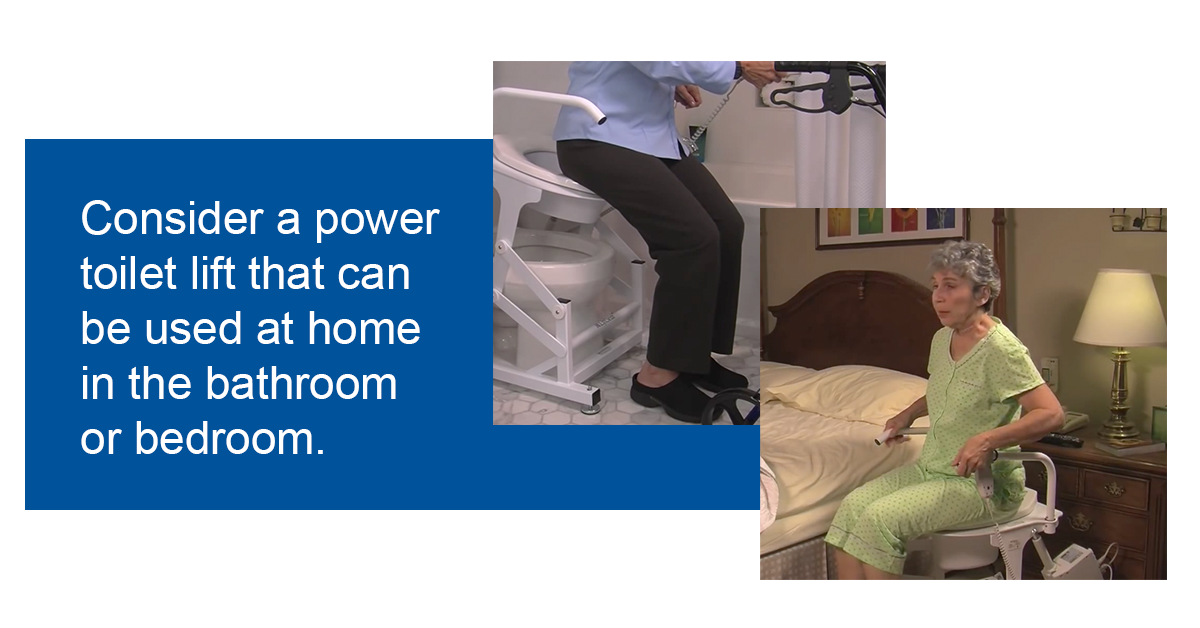 Getting A Grip
Slips and falls are another common culprit of bathroom injury. In addition to installing grab bars, simply placing flat bathmats with rubber, non-slip backing on the floor can go a long way in preventing falls. Cushy rugs can be tempting, but make sure the thickness doesn't present a tripping hazard.
Making the shower non-slip is another easy modification. There are a lot of products available for accomplishing this, from removable and washable plastic mats that suction onto the tub surface, to semi-permanent stickers that adhere using glue. The important thing is to get something that will not come loose/shift over time.
 
Taking the First Step
By addressing these 3 common fall factors, you can quickly and easily modify a bathroom to be more senior friendly. But remember, don't wait until a fall happens to make these changes – start thinking about them now to support a successful and safe aging in place experience for yourself or a loved one.
References:
1. Bakalar, Nicholas. "Watch Your Step While Washing Up." The New York Times, The New York Times, 15 Aug. 2011, www.nytimes.com/2011/08/16/health/research/16stats.html
This content is not intended to be a substitute for professional medical advice, diagnosis, or treatment. Always seek the advice of your physician or other qualified health provider with any questions you may have regarding a medical condition.