Back
One Simple Tool That Makes Caregiving for a Spouse Easier (It's Not What You Think)
11/28/2022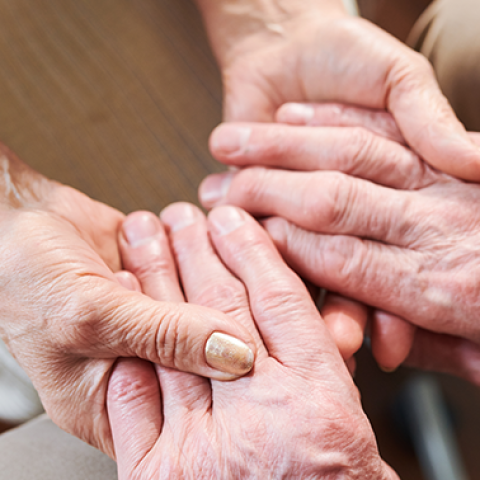 Caregiving for a loved one is not easy – and it's not uncommon. In the US alone, nearly 5.7 million people are caring for a spouse or partner.1 All types of caregiving come with challenges, but spousal caregiving has some unique challenges that make it more difficult. 
Here's a deeper look at the state of caregiving in the US and an easy piece of technology that can help ease the burden.  

Caregiving Takes a Toll
If you live in the US, 1 out of every 5 people you know is a caregiver.2 Following a recent study, the AARP released an updated profile of what these everyday caregivers look like and the challenges they face.
Not surprisingly, the study found that caregiving is demanding – both physically and mentally. Informal caregivers often have little if any training, and over half are still working. This means many aren't equipped with the tools, support, and time they need - to not only properly assist the people they're caring for, but also look after their own health. 
The Centers for Disease Control and Prevention shared additional data highlighting some startling characteristics, stating "40.7% of caregivers report having two or more chronic diseases" and "33.0% of caregivers reported having a disability.3" Looking at these numbers, it's clear that many caregivers could use a helping hand themselves.

Unique Challenges of Caring for a Spouse
Breaking the numbers down further, people caring for a partner or spouse experience a few additional challenges. 
According to the Well Spouse® Association, this type of caregiving is different in the following key ways1: 
More intensive and involved (especially with activities of daily living)  
Less likely to have outside help
Longer commitment (about half cared for someone more than 3 years)
Declining overall health (13% fewer caregivers reported a high level of health over a recent 5-year span)

A large number of people are therefore left to care for their spouse despite their own health struggles. This is particularly problematic when it comes to physically demanding aspects of caregiving and puts both the recipient and caregiver at risk of injury. Fortunately, when it comes to using the bathroom, there is a simple solution that can help.

The Simple Win Caregiving Spouses Need
Assistance using the toilet can be especially cumbersome. Is it physically difficult to lift someone on and off a toilet while navigating a small space full of hard surfaces that may not comfortably accommodate a wheelchair. But it is also emotionally difficult – people want independence in the bathroom. It's embarrassing to rely on your spouse to use the bathroom, especially when it comes to cleaning afterwards. 
This is where toilet lift technology (originally developed for use in hospitals) can provide a big benefit to caregivers and recipients. A power toilet lift is a simple piece of equipment that works with your existing toilet to gently lower and raise users on and off the toilet. It removes the physical burden of lifting from the caregiver and the lessens the emotional burden of dependence on both caregiver and recipient. 
The LiftSeat power toilet lift provides maximum benefit for those with limited lower and upper body mobility. It is the only lift currently on the market that has an optional bidet for hands-free cleaning. It also installs freely (without the need for tools or home modifications) in most bathrooms (yes, even small ones) and can be converted for bedside using an inexpensive add-on. 
LiftSeat was also awarded the 2018 Today's Caregiver Friendly Award and has an average rating of 4.8/5 stars from over 250 verified reviews, with reviews from real caregivers like Johnnie, sharing, "...As my wife gets weaker, she needs the lift more. I certainly appreciate it more because my back is too weak to help her on and off the commode."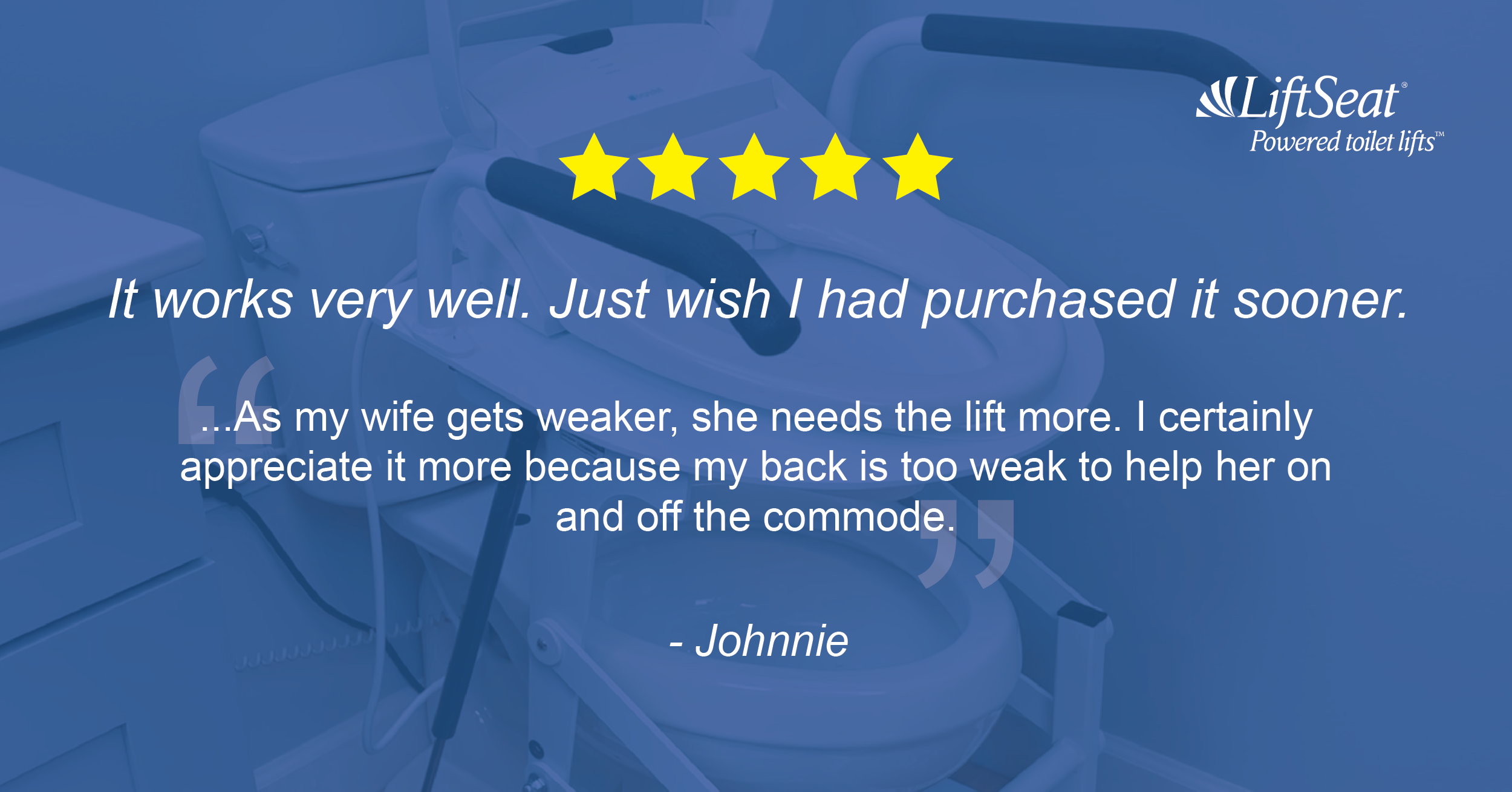 Not everyone needs a power toilet lift. Sometimes a properly installed grab bar provides enough support. For people who need more assistance (and caregivers who are physically unable to safely lift their loved ones), a power toilet lift provides a peace of mind that's invaluable.

References: 
About Spousal Caregiving. Well Spouse Association. (n.d.). Well Spouse Association. Retrieved November 28, 2022, from https://wellspouse.org/who-we-are/statistics.html
AARP, National Alliance for Caregiving. (2020, May 14). Caregiving in the United States 2020. AARP. Retrieved November 28, 2022, from https://www.aarp.org/ppi/info2020/caregiving-in-the-united-states.html  
Centers for Disease Control and Prevention. (2019, July 30). Caregiving for Family and Friends - A Public Health Issue. Centers for Disease Control and Prevention. Retrieved November 28, 2022, from https://www.cdc.gov/aging/caregiving/caregiver-brief.html