Back
4 Tips to Make Toilet Transfers Easier
12/07/2022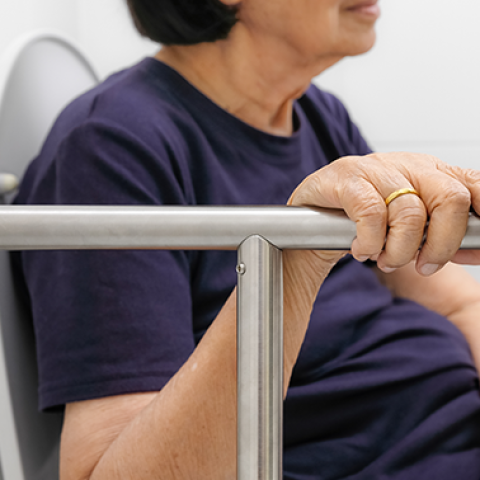 Helping someone on and off a toilet is no easy task. Bathroom spaces can be tight and difficult to navigate, especially when trying to lift and move a person's full weight. Thousands of injuries occur each year because of mishaps related to toilet transfers. One study looking at falls in a hospital found that "45.2% were related to toileting."1
To minimize risk of injury, both for caregivers and care recipients, here are a few tips to make the toilet transfer process easier.
#1 - Do Your Research
Someone who cannot stand, or walk will need a different type of toilet transfer than someone who can partially support themselves. First, determine the level of support you think will be needed during the transfer (full vs. partial), then research suitable transfer methods, yes, there's more than one! 
Videos are an easy way to quickly learn how to perform a toilet transfer. Look for videos that show the style of transfer you will be using (full transfer/ pivot or side transfer). Fortunately, there are a lot of videos available on this topic, including these two:
Full Transfer/Pivot Transfer Methods
This video is great because it quickly demonstrates 2 methods – a full transfer for people who cannot walk/stand and a pivot transfer for people who have more mobility. It also covers common mistakes to avoid: https://www.youtube.com/watch?v=I6h9RJlZUVU 
Slide Transfer Method:
This video shows how to use a slideboard to assist people who need maximum assistance and demonstrates how to remove clothing from lower body once on the toilet: https://www.youtube.com/watch?v=0SUN5B2-iDo 
 
#2 - Carefully Consider Your Surroundings
Is your bathroom set up for success? Non-slip is the name of the game when it comes to successful toilet transfers. Mats with rubber backing provide anti-slip assistance (as long as they're not too thick, which poses a tripping hazard). Wear shoes or slippers with a rubber bottom to avoid slipping.
You may want to install a grab bar for additional support. To safely use grab bars, they must be properly installed. Remember – towel racks are not a suitable substitute for a grab bar and should not be used for support. 
 
#3 - Consider a Power Toilet Lift
Healthcare facilities often use assistive technology to make toilet transfers easier (and safer!) – why shouldn't you? From raised toilet seats to free-standing toilet frames, there are a lot of products available for private home use. 
For people who need maximum support, power toilet lifts are the best option. These lifts gently lower and raise the user onto and off the toilet, reducing strain on the caregiver during the transfer process and reducing fall risk.  
Carefully consider your current and future circumstances when deciding which toilet lift to go with and look for something that can be modified as mobility needs change. LiftSeat makes the most versatile toilet lifts currently available with a wide variety of optional modifications to suit individual requirements.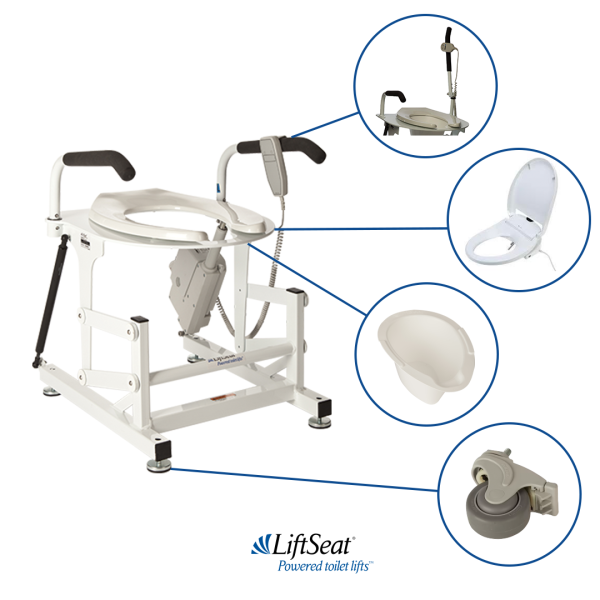 All LiftSeat units can be modified with the following accessories to make toilet transfers easier and safer:
#4 - Ask the Experts
Performing a proper toilet transfer takes practice. If you need more help than online training videos can provide, don't be afraid to ask a healthcare provider for recommendations. Occupational therapists can work with people, often in their own homes, to make sure they have the tools and training necessary to perform essential tasks like getting dressed, preparing food, and using the bathroom. 

Bottom line – don't be afraid to seek help. Whether it's speaking with a doctor, joining a caregiver support group, or investing in a power toilet lift, there are many resources available to make toilet transfers easier.
 
If you are interested in learning more about LiftSeat, or would like to speak with someone directly, call 1-877-665-4381. You can also visit the website for product details and pricing.
 
References:
1. Tzeng, Huey-Ming. (2009). Understanding the Prevalence of Inpatient Falls Associated With Toileting in Adult Acute Care Settings. Journal of nursing care quality. 25. 22-30. 10.1097/NCQ.0b013e3181afa321. Retrieved August 26, 2022, from https://pubmed.ncbi.nlm.nih.gov/19553863/
This content is not intended to be a substitute for professional medical advice, diagnosis, or treatment. Always seek the advice of your physician or other qualified health provider with any questions you may have regarding a medical condition.