Back
What to Do When You Can't Wipe
12/07/2022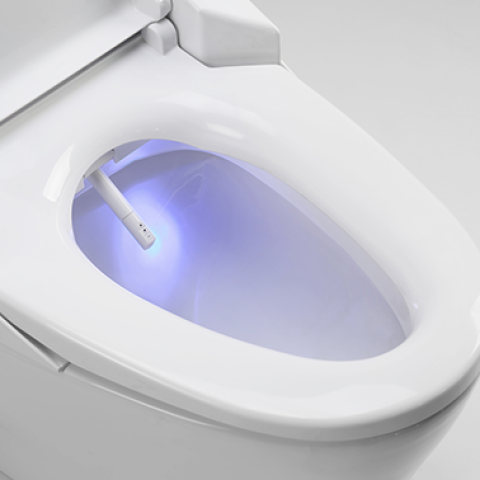 Nobody wants to think about needing help in the bathroom – especially when it comes to cleaning up after using the bathroom. For the hundreds of thousands who have mobility restrictions that make it hard to perform the motions used to not only wipe, but also get on and off the toilet, help isn't an option – it's a necessity.
Some people may be able to rely on a loved one or professional caregiver to assist them in the bathroom, but most people prefer to do it themselves, especially when it comes to cleaning. Fortunately, there is a solution to help people to get on and off the toilet independently that also offers hands-free cleaning – all at the touch of a button!
 
Meet the Powered Toilet Lift
While simple plastic toilet risers have been around for many years, power toilet lifts are a relatively new option for in-home bathroom help. Unlike plastic toilet risers that don't provide any lifting assistance, a power toilet lift gently lowers and raises users on and off the toilet. 
There are a several companies that sell power toilet lifts, but LiftSeat makes one of the most reliable and easy-to-operate options currently available. Using technology that was originally developed for hospital use, LiftSeat units are extremely study and durable, and manufactured according to the highest standards – so users can be sure they are reliable and safe to use. 
 
We Know You're Wondering…What About Cleaning?
It's one of the top questions we get on social media - how can movement-restricted people get clean if they're using a toilet lift? While not everyone who uses a power toilet lift needs help cleaning – many do.  Anyone who has limited arm and hand strength, or trouble twisting/rotating, will need assistance. Surprisingly, the majority of toilet lift manufacturers do not offer a solution for this need and rely on caregiver support for this task, which can be uncomfortable and embarrassing (both for the person needing help and the caregiver).
In response to this need, team at LiftSeat came up with a simple solution – adding a bidet! All LiftSeat units are compatible with bidet technology and are the only power toilet lifts that offer this option. 
 
Not All Bidets Are the Same
LiftSeat spent years testing different bidets to find one that would work best for people with mobility challenges. After listening to feedback from customers who depend on their LiftSeat daily, they determined that the Brondell Swash Bidet is the perfect fit.
Bidets typically have a few distinct cycles, including both a wash and a dry cycle. That's right—a dry cycle, most people don't that this is a thing! Some bidet models are more complicated to operate, with different buttons for each cycle. This can be challenging for people who have limited use of their hands or difficulty following complicated instructions. The Brondell Swash Bidet makes operation easier by offering 2 different one-touch features. Users can easily cycle through a full wash and dry cycle using the "Auto" button, or they can activate a pre-programmed custom wash cycle – also with a single button push. 
Here are a few additional features that set the Brondell Bidet apart:
Customizable water pressure settings
Warm water wash and dry
Self-cleaning and sterilizing nozzles
Heated seat with changeable temperature
One-handed remote operation
Smart-activating nightlight 
 
Real Users, Real Ratings
Thousands of people trust in LiftSeat to use the bathroom comfortably, safely, and independently every day. With an average rating of 4.8/5 stars, based on hundreds of customer reviews, LiftSeat is the best, most-frequently rated toilet lift on the market.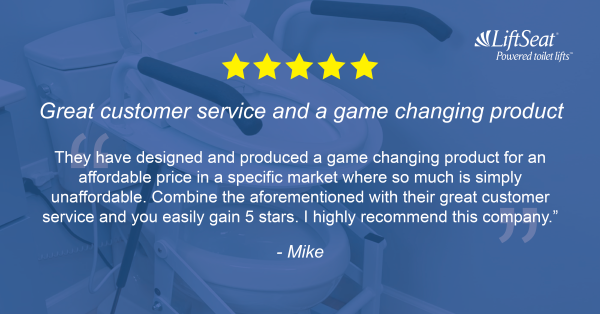 Mike, a real LiftSeat customer, shared the following when leaving his 5-star review: "They have designed and produced a game changing product for an affordable price in a specific market where so much is simply unaffordable. Combine the aforementioned with their great customer service and you easily gain 5 stars. I highly recommend this company."

If you or a loved one find yourself in need of assistance in the bathroom, do yourself a favor, and give the helpful team at LiftSeat a call (and, yes, you get to speak to a REAL PERSON who can answer any questions you may have). The technology to make your life better is available, so why not use it? 
This content is not intended to be a substitute for professional medical advice, diagnosis, or treatment. Always seek the advice of your physician or other qualified health provider with any questions you may have regarding a medical condition.